May 13, 2008

Macedonian Language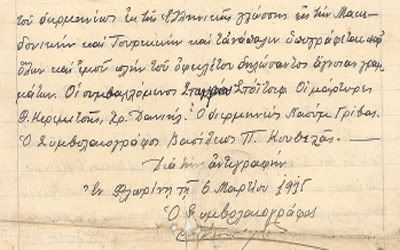 GREEK DOCUMENTS REFUTE OFFICIAL ATHENS
Greeks sweared in front of the Bible that they will loyally translate from Macedonian!
Notary document form 1915 witnesses that the Macedonian language and identity were undeniable fact to the Greeks
Published on 12.05.2008 in DNEVNIK on page 1
The Macedonian language is neither made up, nor does a commintery creation with the Macedonian nation, as the Greeks state in their aggressive campaign, prove documents from the beginning of the last century. One of them is the notary agreement from 1915, made in Lerin.
The agreement on March 6th 1915 was signed between the Macedonian Stavro Stojchev and the Turk Alim Juzeir. None of them knew the Greek language, which was established by the Greek administration in the part of Macedonia that Greece got by the Treaty of Bucharest in 1913. So, the Greek authorities engaged a translator who speaks Macedonian and Turkish.
In the notary act is written: "In front of me, the notary public Vasiliu P. Kuvela, and present witnesses, Greek citizens I know, healthy and never convicted citizens of Lerin, the traders Teodor Keramici and Hristo Danail, came and legitimated Stavro Stojchev, farmer of Opsirina, district Florina and Alim Juzeir, citizen of Florina, farmer. They are not familiar with the Greek language. The first one speaks Macedonian, and the second speaks Turkish. We called the translator Naum Griva, tobacco trader, who sweared in front of the Holy Gospel that he will translate from Macedonian to Turkish and from Turkish to Macedonian loyally". Further in the text is written for the loan that Stojchev gave to Juzeir of 4530 drachma at that time, i.e. 220 ottoman liras. The document is signed by all present and it is legalized by stamps of the notary public and the Greek administration.
The document is original with a few revenue stamps, costing 25 money each. This document was kept by the successors of Stavro Stojchev. They gave the document to Petre Nakovski, ex ambassador of Macedonia in Poland, who researches and writes for the Macedonian refugees form Aegean Macedonia, and soon, in the Macedonia Archive, he will promote the book "Macedonian refugees in Poland 1948- 1975".
This is one of the many documents that break the Greek and Bulgarian statements that the Macedonian language and nation are made up and formed by a decision of Josip Broz Tito and the Commintery. "Dnevnik" finds out that such documents, which reveal the statements of the present Greek campaign could be soon presented to the UN mediator for the name, Mathew Nimetz.