Mar 17, 2008

Macedonian Migration
On October 9, 1913 in the early morning, a fire broke out on the Volturno, then in the mid Atlantic in a heavy storm and high seas. What caused it? It would seem that nobody knows for sure. Possibly it was caused by a Russian steerage passenger who was smoking a cigarette on board. To avoid being caught and a $5 fine for smoking, he may have dropped his cigarette through a hole in the deck. The hold directly beneath contained the passengers' luggage, which soon was burning fiercely. More likely it was that the casks of stored chemicals broke free as the ship rolled in the heavy seas and that those chemicals then smouldered and burst into flames. Regardless of the reason, fire did break out and spread through the ship. Four crewmen lost their lives in the flames. Three great explosions occurred. A distress call was sent out by the then relatively new 'wireless'. Lifeboats were lowered into the high seas and capsized or were crushed.
Eleven ships responded and raced to the scene, the first to arrive being the Carmania. Rescue was attempted but boats sent out at great risk were unable to pick up passengers due to the rough sea. The ship continued to burn and the desperate passengers assembled at the stern of the vessel. Next morning, the gale had subsided and the sea was calmer, calmed no doubt in part by heavy oil, spread on the sea by the tanker Narragansett. The fleet took off a total of 520 survivors (per Board of Trade Inquiry Report 457 passengers and 63 crew), with the Grosser Kurfürst taking the most survivors (106). Captain Inch was the last person to leave the stricken vessel with the ship's papers in hand and with his dog in his arms. So 134 people died. The incident was witnessed by all of that assembled fleet, unable to help for many many hours until the weather and sea conditions improved.
Now lets see what the newspapers wrote;


Taken from "The Janesville Daily Gazette" Monday, November 10, 1913.
Let us also take a look at the immigration records available;
And here is list of survivors who were taken to shore at Ellis Island New York by the Campanello. Kolu Sapundieff looks interesting.
The original ship manifesto of the Campanello, Ellis Island immigration records.
Here is the passenger record for Kolu Sapundieff, obviously Macedonian.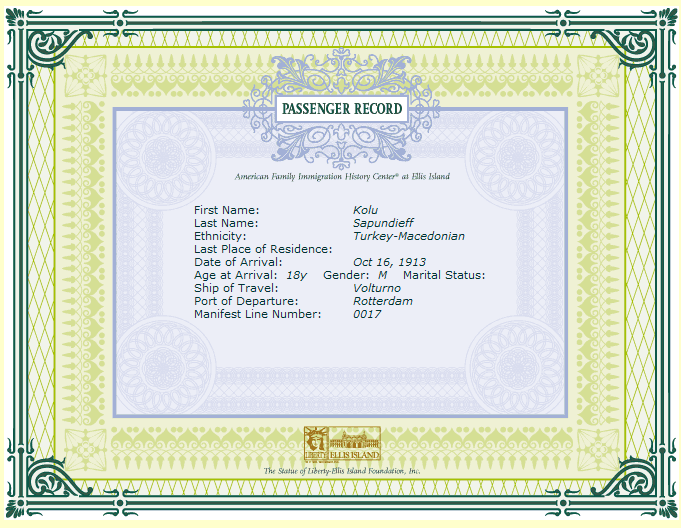 Both the ship manifesto and the passenger record are found at the Ellis Island webpage, http://www.ellisisland.org/, just make a search for Kolu Sapundieff.