Mar 14, 2008

Macedonian Migration
Application to the Russian Emperor of Serbian, Macedonian, Bulgarian and Vlach settlers in Vojvodina for emmigration to Russia.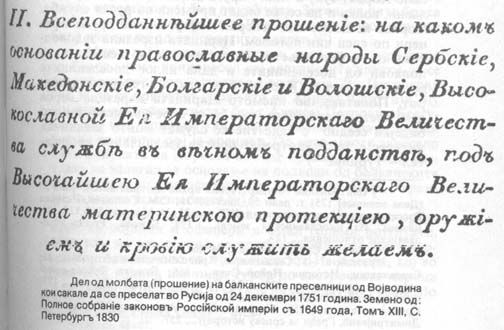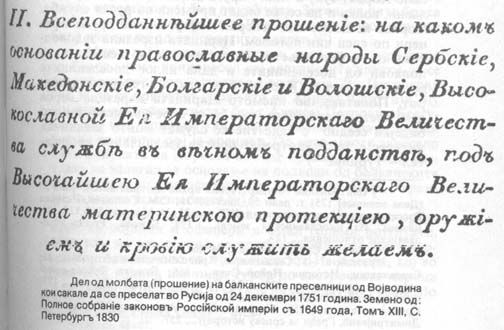 Edict of the Russian Empress Elisabeth allowing Bulgarians, Macedonians, Vlachs and other nations to settle in Russia.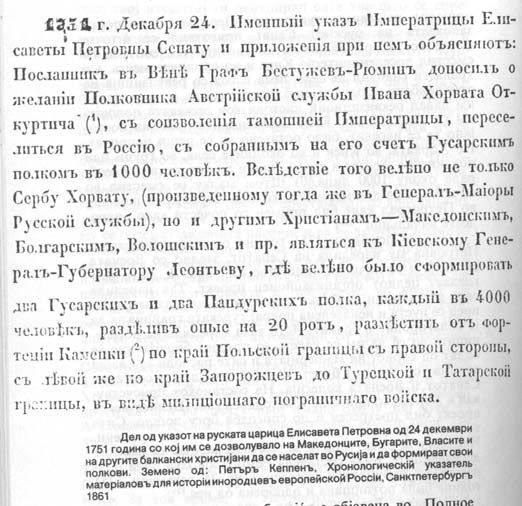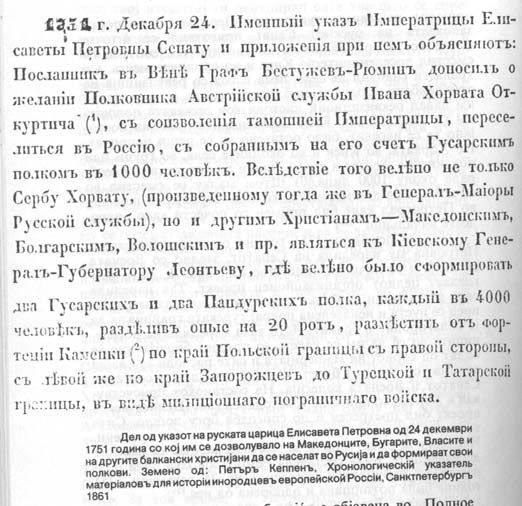 December 24, 1751 Edict by the Russian Senate permittimg the settling of Bulgarians, Macedonians, Serbians and Vlachs.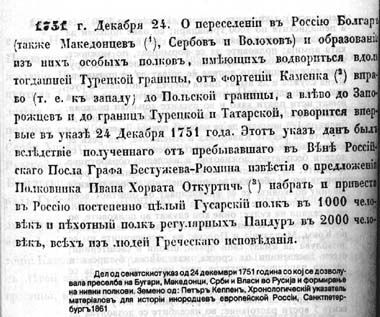 Part of a Russian royal edict of January 11, 1752 granting the formation of brigades from the "orthodox Serbian, Macedonian, Bulgarian and Vlach peoples…"
______________________________
Macedonians noted in immigration records in Ukraina in 1755!
Immigration record, Ukraina, 1755
______________________________
The Macedonian regiment in Russia!
The author present the data about members of Serbian regiments in New Serbia, that is, Slavonic Serbia, who declared themselves as Macedonians. In Sevic's regiment 74 persons declared that they came from the "Macedonian nation". According to the Russian author Kabuzanov, in 1754 in New Serbia there were 2,225 persons, out of which 124 Macedonians.
In 1759 the Macedonian hussar regiment was formed. The commander of the regiment was Aleksij Kostjurin, and the supreme commander of all regiments was Jovan Horvat. According to the data from 1765–1769 out of the total of 271 merchants who were registered in the "Nezin Greek Fraternity", 54 declared that they were from the "Macedonian province", mostly from Kostur, Thessalonica, Vodena, Skoplje and Strumica.
The Macedonian regiment was terminated in 1773. The dislocated population adapted to the new environment and by the time passing they became ethnically assimilated.
Taken form "Preseljenitsi iz Makedonije u Rusko Tsarstvo sredinom 18. veka" by Milka Zdraveva, page 145.
Document about the Macedonians in Russia, written in Serbian.